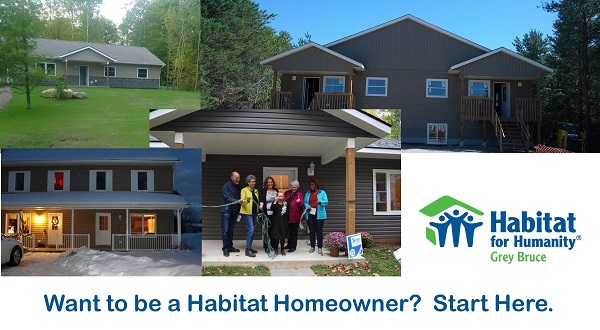 Homeowner Application
The application process is just that: a process. There are many steps involved. Firstly, you must complete this Expression of Interest, providing HFHGB with the information we need in order to see if your family meets the basic criteria.
Criteria for Owning a Habitat Home
To qualify to purchase a Habitat home, families must:
Demonstrate a need for housing (unsafe or unhealthy conditions, substandard or overcrowded housing conditions or have high rent relative to your income)
Be willing to partner with Habitat (by completing 500 hours of "Sweat Equity" towards the construction of their home and attending homeownerships workshops)
Be able to afford a mortgage (held by Habitat, monthly payment  is set at 25% of gross family income)
If you are interested, take a moment and complete the Expression of Interest application. If you have any questions about this application please contact Rachelle MacKenzie, Business Manager. Together we can work through this process.
Click to download printable version of the  Expression of Interest Form for Chippewas of Nawash. 
Completed applications can be forwarded to:
Habitat for Humanity Grey Bruce
Attn: Family Selection Committee
223017 Grey Rd. 17 
Owen Sound, ON N4K 5N7
Voice: 519-371-6776  
Fax: 1-877-606-1386
e-mail: info@habitatgreybruce.ca